The Comfortably Home team works with each homeowner to customize a Work Plan. Homeowners make decisions about what is most important to them and Comfortably Home staff takes care of all design, planning, materials, and installation.
As many additional factors can impact safety in your home, we encourage you to talk with your health care providers about your unique risks and needs.
Comfortably Home offers a one-time service at no cost to eligible homeowners. This can include:
SAFETY CHECKS
Here are a few examples:
Installing smoke and carbon monoxide detectors with 10-year batteries. Not only do these provide essential alerts in the case of smoke, fire or carbon monoxide, but the 10-year batteries also eliminate the need to climb up on stepladders or furniture to frequently change batteries.
Cleaning dryer vents to address the #1 cause of home dryer fires
Cleaning refrigerator coils to keep the refrigerator running longer and power bills lower
Replacing light bulbs, as adequate light increases safety
Changing furnace filters to reduce fire risk and help with air quality, furnace functioning and power costs
Installing large reflective numbers on your home or the end of your driveway so that emergency responders can more easily find your address and reach you quickly
Installing wireless fuel monitors so that you can read your furnace's fuel gauge without having to go down basement stairs or go outside
ACCESSIBILITY MODIFICATIONS
Sometimes changes in physical health, vision, mobility, mental health, coordination, balance or memory can be mitigated by changes in the home. A few examples include:
Minor flooring repairs, such as smoothing out threshold transitions to reduce tripping and falling hazards
Raising a work surface to reduce strain on back and body
Installing a toilet seat in a different color than the toilet or making walls, doors, railings, step edges or switches contrasting colors to assist with use when low vision and/or dementia are concerns
Installing a tub cutout, which can make getting in and out of the shower easier and safer
Installing grab bars, shower wands, non-slip materials and/or shower seats to reduce the risk of falls and make bathing possible, safer and more comfortable
Adding grab bars, raised toilet seats and/or bidets to reduce the risk of falls and assist with safety and comfort in the bathroom
Adding hand rails on both sides of indoor or outdoor stairways to reduce the risk of falling
Changing round doorknobs and faucet handles that require gripping to flat levers that make the handles easier to use
Installing safety devices that turn off stoves in response to smoke detector sound
MINOR REPAIRS
It is very easy to get behind on home repairs. Sometimes these repair needs can interfere with safety and can also increase other costs over time. A few examples of Comfortably Home work that can make a difference: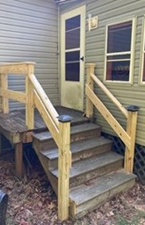 Repairing existing railings, steps, or ramps to make them more secure and reduce the risk of falls and injuries
Installing storm doors or providing other winterizing to reduce energy costs
Building indoor or outdoor entryway shelves so that items can be safely set down to reduce the risks of falls