Bath, ME, October 26,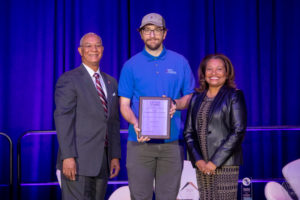 2018) – The National Association of Housing and Redevelopment Officials (NAHRO) recently honored Bath Housing with the prestigious 2018 Award of Excellence for Comfortably Home.
Comfortably Home is an example of local ingenuity that began in October 2015. Bath Housing's professional maintenance team goes into the community and works with homeowners to make accessibility modifications that facilitate ease-of-living as people grow older. The program specializes in one-time, minimally disruptive but high-impact minor home improvements. The result is that area residents are thriving in their own homes. Bath Housing has served 125 homeowners in the greater Bath area over the past three years. The Comfortably Home team works with each homeowner to create a customized work plan. Services may include safety checks, accessibility modifications such as installation of grab bars and handrails, lighting improvements, changing out faucets, or minor repairs such as fixing flooring or gutters over entryways.
"These agencies are leaders in the housing and community development industry," said NAHRO President Carl S. Richie, Jr. "Their innovative approaches improve the lives of their residents and revitalize their local communities, and I am proud to celebrate their achievements."
The 2018 NAHRO Awards of Excellence winners were selected by regional juries from a pool of this year's 193 Awards of Merit honorees. Bath Housing was one of only 19 winning agencies. Awards of Excellence programs must improve resident outcomes, resolve problems, and be replicable by organizations of similar size. They must also produce tangible results, such as cost savings, enhanced productivity, improved client services, and better service coordination.
"Our industry is continuously finding new ways to address changing local needs and to create opportunities in their communities," said NAHRO CEO Adrianne Todman, "Congratulations to this year's leaders in innovation!"
Contact:
Debora Keller, Executive Director, Bath Housing, 207-295-3074