Debora Keller
Executive Director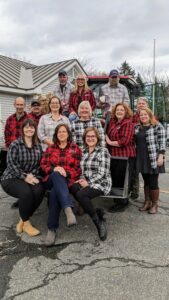 Debora Keller has been with Bath Housing since January 2014. She is a community development leader in Maine with 30 years of experience in non-profit management. She holds a Masters Degree from Tufts University in Urban and Environmental Policy and Planning and a Bachelor of Arts from Indiana University. She received the 2016 Stephen B. Mooers award from MaineHousing in recognition of the creation of Comfortably Home. She was the 2010 recipient of the Joseph Kreisler Community Impact Award from Preble Street for her work developing Florence House in Portland.
At Bath Housing, Deb created Comfortably Home, a home modification program designed to offer no-cost home safety checks, minor maintenance repairs, and accessibility enhancements to eligible homeowners. These services enable recipients to continue living safely and comfortably at home. This program created a progressive solution for aging homeowners and housing authorities—as well as the community at large—by establishing a model to address the housing and wellness issues of a growing segment of Maine residents. The model is now replicated throughout Maine and nationally through HUD's Older Adult Home Modification Program. Keller is a National Association of Home Builder Certified Aging in Place specialist and completed the Home Modification certificate program through the Fall Prevention Center of Excellence at the University of Southern California Leanard Davis School of Gerontololgy.
Keller currently serves on the City of Bath's community development committee and is a Corporator of Mid Coast – Parkview Health. She is Chair of the Maine Association of Public Housing Authority Directors (MAPHD). She served on the boards of the Maine Affordable Housing Coalition for nine years (as Chair from 2017-2019), the Genesis Fund board of directors from 2014 – 2020, and MaineHousing's 2015 Affordable Housing Working Group. She was on the RSU1 Facilities Committee and the Building Committee for the new Morse High School. She co-chaired the Maine Council on Aging's Housing Committee in 2018.
Debora worked at Avesta Housing from 2004 to 2013, serving as Director of Programs. In that role, she oversaw Avesta's programmatic efforts, including unprecedented real estate portfolio growth from 2007 to 2013 with 21 affordable multi-family construction projects that created 649 new apartments. She also oversaw Avesta's assisted living facility, Housing Choice Voucher program, and the launch of the new HomeOwnership Center.
Prior to joining Avesta, Deb served as Associate Director of the Genesis Fund, a Maine-based Community Development Financial Institution providing loans to nonprofit organizations. At Genesis, Deb managed the organization's $3.0 million loan portfolio and was responsible for marketing, underwriting, monitoring, and servicing for all lending activity. She has extensive past work experience with non-profit community development organizations around the country. Deb started her affordable housing career as a VISTA Volunteer in Iowa where she created a security deposit loan program for low income clients and a breakfast café for the homeless.
Jess oversees the integration of all housing programs and services, including Property Management, Maintenance, Resident Services, Vouchers, and Comfortably Home. She has extensive non-profit leadership experience and a deep commitment to human services. Prior to Bath Housing, she spent ten years with GMS in Westbrook, Maine where she served as both the Director of Residential Services and the Director of Operations. In this capacity, Jess worked to expand not only the Residential Services Department, but also the variety of services available to adults with intellectual disabilities and autism, leading to a growth from 27 to more than 150 individuals supported. Jess worked internally – and with outside agencies and contractors – to ensure staffing, housing, training, and policy needs were met to provide each new service in a quality manner.
Prior to returning to her home state of Maine, Jess worked as a counselor and then as director of adolescent behavioral health homes in the greater Boston area with Northeastern Family Institute of Massachusetts. She is a graduate of the University of Maine at Orono.
Jess serves as the Secretary of both the Board of Directors for the Maine Real Estate Managers Association and the Centralized Waitlist Advisory Group that oversees the statewide Housing Choice Voucher Waitlist. She is also a member of the steering committee for the Age Friendly Communities of the Lower Kennebec.
Joshua Dubois
Director of Facilities

Joshua Dubois began working with Bath Housing in January 2010 and took on the role of Director of Facilities in July 2021. He holds an Associate's Degree in Applied Science Building Construction Technology from Central Maine Community College where he also completed a 30-Hour OSHA training certification course. He is certified as an HQS and UCPS inspector. Josh previously worked at East Coast Woodworking where he was a lead installer and at BIW where he was a ship fitter and backup lead man. He graduated from Lisbon High School and serves as a Lieutenant on the Town of Lisbon Fire Department.
Betsy joined Bath Housing in March 2022. With over 16 years of non-profit experience, Betsy draws on her varied program management and social service experience to help support the housing needs in the Bath area. The bulk of her career has been in the social service arena, where she has maintained oversight of compliance with various federal agencies and assisted with humanitarian aid projects in several different countries. She helped process hundreds of adoptions in her nine-year tenure at MAPS International, where she initially supported families in the Russia and Guatemala programs and later as the Director of Adoption Programs & Services. She served as the Parent Coaching Program Coordinator at the Opportunity Alliance for two years prior to setting off in a truck camper bound for Florida, where her career track unexpectedly shifted toward maritime museums; she was the Assistant Store Manager at the St. Augustine Lighthouse and Maritime Museum and more recently held the Guest Services Manager position at the Maine Maritime Museum. Betsy has degrees in communications and Elementary Education. When not working, she is typically on the sidelines of a marathon or Ironman, cheering on her daughter, or galivanting with her husband, Adam, and Fraulein Tessa Crescent Von Der Hettlingshone, their beloved German Shepherd.
Chelsie Bell
Housing Coordinator

Chelsie Bell joined Bath Housing in September. She spent the prior five years working for State Farm as a risk advisor specializing in claims and ensuring her clients were properly protected. She is passionate about providing excellent customer service and making connections within the community. She grew up in Kennebunkport and currently lives in Wiscasset with her wife and two sons.
Julie Kselman
Housing Coordinator

Julie started at Bath Housing in 2022. Prior to this, she held leadership roles at non-profit organizations in Philadelphia, PA and Portland, ME. Most recently, she served as the Director of Anti-Trafficking Services at Preble Street in Portland. Julie is passionate about expanding options for affordable housing in Maine and beyond, and loves connecting with residents and community members. Julie holds a Master's Degree in Social Work and is Bilingual in Spanish and English. In her free time she enjoys gardening, baking bread and spending time with her family.
Kristen McEvoy
Comfortably Home Program Coordinator and Resident Service Coordinator

Kristen joined Bath Housing in April 2019 and brought a real passion for fostering connections. Her background encompasses health care, higher education and non-profit work. Most recently, she served as Manager of Volunteer Resources for Androscoggin Home Care & Hospice, supporting volunteers, patients, loved ones and staff with a variety of programs. Kristen also brings years of experience in providing counseling services and outreach programming during her years in Tennessee and Vermont. In fall 2020, Kristen became the Program Coordinator for Comfortably Home.
Kathy Smith
Resident Service Coordinator

Terry Layton joined Bath Housing in April 2018. Terry served in the US Navy until 1986 where he was a firefighter, plumber and carpenter. Since that time, he has worked in a variety of roles including as a pipefitter, a camp maintenance director, a plumber and carpenter. He was also self-employed as a handyman and carpenter for a number of years.
Bath Housing welcomed Kathy Smith in July 2020. Kathy has a strong commitment to the community and helping improve the lives and living conditions of local people. As a community engager and social services professional, Kathy has a demonstrated history of working in a variety of areas in the non-profit sector. Her professional experiences include providing information and referral services, relationship building, case management, program implementation and evaluation, event management, volunteer management, fundraising, and grant writing. Most recently she has addressed low-income housing issues with Habitat for Humanity/7 Rivers Maine. Over the past five years she worked with Harpswell Aging at Home to establish and support their volunteer Home Repairs program and was part of the collaboration with Bath Housing to pilot what is now the successful Comfortably Home Program.
Melissa joined Bath Housing in September 2022. Having worked in higher education, property management and small business management Melissa brings with her a wealth of knowledge in the finance industry. In her most recent role as Finance Liaison within the Maine Community College System, she was instrumental in the creation of Live Fire Training Facilities grants which eventually became State of Maine legislation. In her free time, she enjoys spending time with her husband, two children and is an avid DIYer.
Karl Beane
Maintenance Technician II
Karl Beane joined the Maintenance Team at Bath Housing in May 2009. He is a certified UPCS Inspector. Karl's past work experience includes three years as a helicopter mechanic for the US Army, ten years at Bath Iron Works as a ship fitter and pipe fitter, and eight years as a maintenance technician at the Highlands.
Terry Layton
Maintenance Technician II
Matt Thompson
Maintenance Technician II: Aging Specialist
Matt Thompson joined Bath Housing in June 2021. Matt was store manager for the Portland Food Co-op for six years — since its grand opening. He was responsible for building customer and community relationships in addition to retail management. He has an Associate's Degree from Red Rocks Community College with a focus on woodworking and later lived and worked at Rowe Camp and Conference Center where he was a Maintenance and Landscaping work-study intern. He loves working on his house and land, enjoying all nature has to offer, and helping to build community.
Craig Kline
Maintenance Technician II
Craig Kline joined Bath Housing as a Maintenance Technician in July 2021, having relocated to Maine from Tennessee. He has well over a decade of maintenance experience, including work in the hospitality industry in Florida, North Carolina, and Tennessee and while operating his own property preservation company from 2011 to 2017 in Florida. He has a certificate in electronics from RETS Electronic Schools in Maryland.
Jeff Spaulding
Maintenance Technician II
Bath Housing Authority Board of Commissioners
Pia Neilson, Chair
Arrowsic, ME
Term: February 2024
Catherine Powers, Vice-Chair
West Bath, ME
Term: February 2025
Karen Robbins
Arrowsic, ME
Term: February 2025
Barbara Gaul
Bath, ME
Term: February 2026
Marsha Knowles
Bath, ME
Term: February 2023
George Sprague
Bath, ME
Term: February 2027
Betsey Glazier
Bath, ME
Term: February 2028
Phyllis Bailey — City Council Representative (non-voting)
Bath, ME
Term: Annual
Bath Housing Development Corporation Board of Directors
Barbara Gaul, Chair
Bath, ME
VACANT, Vice-Chair
Bath, ME
Catherine Powers
West Bath, ME
Nancy Carleton
Woolwich, ME
CR Davis
Woolwich, ME
Michelle Rines
Woolwich, ME
Erik Nelson
Bath, ME
Nancy Jennings
Bath, ME
Marsha Knowles
Bath, ME
Roberta Jordan
West Bath, ME
Tobias Gabranski
Bath, ME