Rental housing in the greater Bath, Maine area is diverse. The housing stock is made up of apartments in smaller multi-family buildings, with a few larger buildings scattered throughout the area. Bath Housing helps with housing solutions for those living in Bath and the five surrounding towns. The area is currently seeing extremely low vacancy rates.
We offer housing navigation services at our office. Please stop by anytime!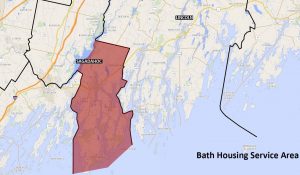 Rental Listings
MaineHousing maintains a county by county list of affordable rental properties. It can be found here: Maine State Housing Authority: Subsidized Housing.
You can also use Maine Housing Search. This is Maine's free rental listing service. It's fast and easy to use and includes detailed listings with pictures, maps, and more. Listings are updated daily.
HUD (U.S. Department of Housing and Urban Development) has a Resource Locator App available on your smartphone browser or through Apple iTunes or Google Play Marketplace. Commonly requested housing-related services are mapped out and linked to social media sites such as Facebook and Twitter.
Many landlords choose to advertise their apartments in the local newspaper, Padmapper, The Times Record, or by using Craigslist. Additionally, find a list of local landlords under the "Landlords" tab on our website. Feel free to call them directly.