Shaw and Middle Streets Bath, Maine
The 10 family apartments in the South End of Bath took shape on lots cleared of substandard housing through a neighborhood improvement program. Two buildings house six apartments on Shaw Street, and a building on Middle Street contains four apartments.
Five 2-bedroom, five 3-bedroom apartments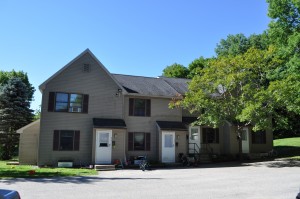 Features:
Two floor, townhouse style
Walkable to South-End Park
Ample outdoor space, fenced privacy
Washer/Dryer hookups in each apartment
24-hour emergency maintenance
Non-smoking facility
Snow plowing & off-street parking
Garbage included
Pets allowed (per policy)
Resident services coordinator
Income Limits:
To qualify to live here, households must not exceed 50% of the area median income.
Rent:
Rents are calculated based on a formula dictated by the US Department of Housing and Urban Development. The formula requires tenants to pay the higher of a) 30% of their monthly adjusted income, b) 10% of their monthly income, or c) Bath Housing Authority's minimum rent ($25). Actual rent amount will be determined at lease-up and annual certification. Electricity is the only tenant-paid utility, residents are responsible for television and internet.