Construction to begin in 2024
BATH — Bath Housing Development Corporation (BHDC) is pleased to announce details on its first new construction, multi-family housing project since 1984.
The property will be located at 520 Centre Street.  Bath Housing envisions multiple phases of development, with the first to include 18 two-bedroom apartments on the upper three fl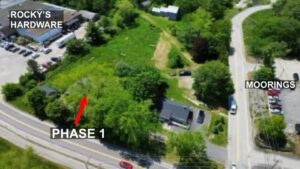 oors, with Bath Housing's administrative offices on the first floor. The site's location was a prominent driving force: It connects easily to the Congress Street walking path; it's only one mile from downtown businesses including major employers; its walkable to the middle and high schools, the YMCA, Wing Farm Parkway, and multiple shopping plazas; and it's across the street from a bus stop.
The property will be owned by Bath Housing Development Corporation (BHDC) and managed by Bath Housing Authority. It adds to Bath Housing's existing portfolio of 175 apartments in town. The project will be wired for future installation of Level 2 EV chargers and PV solar panels and will include free wifi for tenants.  There will be no fossil fuel systems used in the building. Ryan Senatore Architects is designing the building and Ouellet Construction has been engaged as the construction manager.
Funding has been secured from MaineHousing. In September 2022, Bath Housing was one of eight developers selected by MaineHousing for its Rural Affordable Rental Housing Program.
"Bath Housing is committed to finding housing solutions so people from all backgrounds and income levels can live, work, and thrive in our community.  This property – and this project – are one step forward in our efforts to expand housing options here in Bath," Bath Housing Executive Director Debora Keller said.
Because of the funding, all apartments will be income restricted.  This means the total household income will be capped at 80% of Area Median Income. Currently, that would be under $51,800 for a single person, $59,200 for a couple, and $74,000 for a family of four. Rents will be pegged to Bath Housing Authority's payment standards.  The project aligns with the current housing needs in Bath as outlined in the Comprehensive Plan, the 2014 Housing Assessment, and the 2021 Housing Market Summary. This is the first of multiple phases for the site, and construction is planned to start in 2024.
An aerial view of 520 Centre Street.  Phase 1 will be located on the eastern boundary of the parcel, on Congress Ave, between Rocky's Ace Hardware and Primerica.