For the 20th year in a row, the Sagadahoc Chapter of Maine Organic Farmers and Gardeners Association (MOFGA) has led the annual garden planting for Bath Housing.  On Saturday, June 2, 2018, a team of 20 volunteers from MOFGA dispersed across the City of Bath to plant garden beds at the Anchorage, Moorings, Seacliff and Dikes Landing.  Volunteers worked side by side with residents to prep and plant individual garden beds.
Bath Housing maintains over 1,000 square feet of garden space for residents, including accessible beds. Once the beds are planted with MOFGA, University of Maine Cooperative Extension Service lends master gardener assistance to teach gardening classes throughout the season. Additionally, a nutrition educator from Maine SNAP-Ed provides cooking classes throughout the year.
The gardening effort is part of Bath Housing's larger focus on health and wellness. Bath Housing also work closely with the Merrymeeting Gleaners, who have distributed over 6,500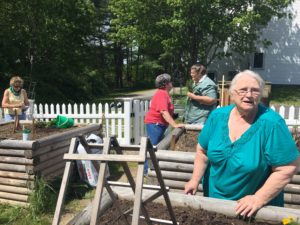 pounds of produce to Bath Housing residents in the past three years. Through these combined efforts, residents have found they now have access to a wide variety of fresh produce.
To find out more about Bath Housing, visit www.bathhousing.org or call (207)443-3116. To learn more about the Sagadahoc Chapter of MOFGA, please visit http://www.mofga.org/Community/Chapters/Sagadahoc-Chapter-of-MOFGA.